Family & Grandparent Camp
Enjoy an adventure with your whole family!
A wonderful, time-tested, family camp program – at your chosen level of comfort. Sugar Creek welcomes all family shapes & sizes – including of course grandparent/grandchild family units.
You'll have a fun, intentional, faith-forming, memorable family time with the friendliest neighbors too – all at your own pace.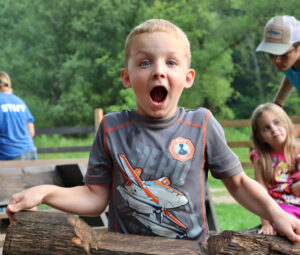 Our dynamic staff hosts your family fun with games, crafts, nature walks, swimming, evening programs, interactive campfires, horseback rides (pony rides for 7 and under) and more! A flexible schedule allows you to pick and choose from a wide variety of activities and even includes some childcare times.
Enjoy great outdoor activities, hearty meals, and enthusiastic youth ministry staff (camp counselors) all day every day for kids and adults! All activities are optional… with "anytime" activities just for your own family as well. At Sugar Creek, your family can set your own pace of adventures, relaxation, excitement, socializing – and anything in between. 
Complete a Family Camp Register Online or Registration Form and mail or email it to Sugar Creek with a $100 deposit.
This summer, you can choose from three Family Camp sessions:
1st Session: Sunday – Wednesday, June 30-July 3, 2024
2nd Session: Sunday – Wednesday, August 4-7, 2024
3rd Session: Thursday – Sunday, August 8-11, 2024
COST & OPTIONS
Program Cost: $175/person Includes meals, program, and basic lodging. Children 4 and under free.
Upgraded lodging an additional $50-400 per family.
 All prices include 3 nights of lodging, meals, snacks, materials, and staffed program activities for your whole 4-day adventure together!
Please note: families with disabilities are given first priority in housing assignments.
If housing runs short, assignments are made based on the following needs. You will be notified well ahead of time in the (rare) event that your first choice of housing is not available:
need – families with disabilities receive first choice of housing 
order in which your registration was received
family size – lodges/cabins have different capacities