Wagoneers (ENTERING GRADE 6)
This favorite Sugar Creek program will give campers the opportunity to live life like the pioneers on the Oregon Trail for a week! Wagoneers will learn to build and cook over fires, ride horses, shoot at our archery range, swim in the pool, participate in daily Bible study, devotions, and experience world-class campfire worships.
Campers stay in covered wagons, each featuring their own fire-pit and covered picnic shelter. Join the wagon train and experience one of the most beautiful and secluded valleys at Sugar Creek!
Cost: $695 (Tier 1), $495 (Tier 2), or $395 (Tier 3)
Dates: June18-23, July 30-Aug. 4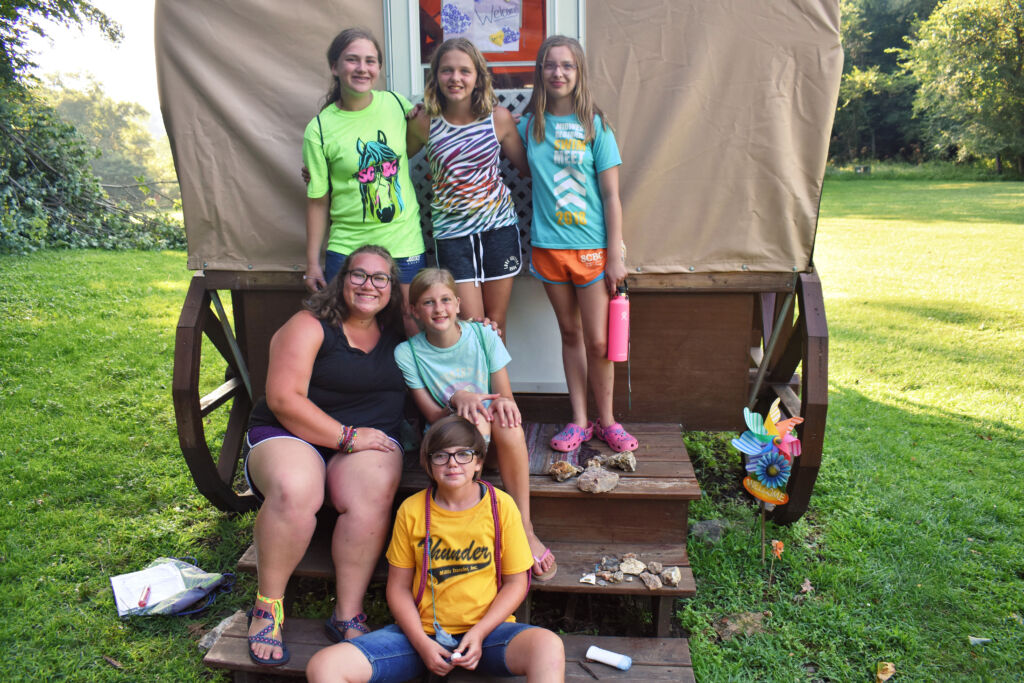 Horse Camp (ENTERING GRADEs 6-8)
Come to Horse Camp for a week-long, hands-on horse experience! Horse campers will become best friends with our wranglers, and horses, by going on multiple horse rides, assisting with grooming and tacking up horses, and they will go on an overnight adventure, with the horses, on top of the bluff.
Campers also have the chance to participate in other classic camp activities including swimming at the pool, games, and campfires. Campers participate in devotions, Bible studies, and worships daily. These important times remind campers that they are loved by Christ. Horse campers will stay in our covered wagons.
Register early: this program fills fast!
Cost: $695 (Tier 1), $495 (Tier 2), or $395 (Tier 3)
Dates: June 11-16, June 25-30, July 9-14, July 23-28
ART CAMP (ENTERING GRADES 6-8)
Get creative with us at Art Camp! Learn and practice different cool ways to express yourself. Staff and local instructors teach your two area of choice. Pick between guitar, dance, and creative writing for your morning sessions then painting, photography, and fiber art for your afternoon session.
Campers will also have opportunities to participate in other classic camp activities such as teambuilding games, campfires, worship, Bible study, horseback riding, and more!
We look forward to seeing you use your creative gifts!
Cost: $695 (Tier 1), $495 (Tier 2), or $395 (Tier 3)
Dates: June18-23
Elevated (ENTERING GRADEs 6-8)
Strap up your boots and grab your hammocks for this epic camp adventure! Journey to special campsites each day. You'll visit remote and serene corners of camp, pausing for devotions, Bible studies, worships, and fun along the way. Aside from all the new places campers will discover deep in our 660 acres, returners will find familiar places as well like the pool, challenge course, and Art Barn! Campers will sleep at multiple campsites in their hammocks throughout the week!
There will be rooms in a lodge reserved for you in case of bad weather.
Cost: $695 (Tier 1), $495 (Tier 2), or $395 (Tier 3)
Dates: July 16-21
NIGHT CAMP (ENTERING GRADES 7-8)
Experience the beauty of Sugar Creek under the stars at Night Camp! Campers will spend late nights building blazing campfires, encountering night-time wildlife, playing crazy games, and taking part in fun projects and missions.
In addition to unique night-time activities, campers will  also have an opportunity to be a part of classic camp experiences like swimming at the pool, the Christ Hike, Bible studies, devotions, worships, and crafts. Join us for this Sugar Creek program that is like no other!
Cost: $695 (Tier 1), $495 (Tier 2), or $395 (Tier 3)
Dates: June 18-23, July 23-28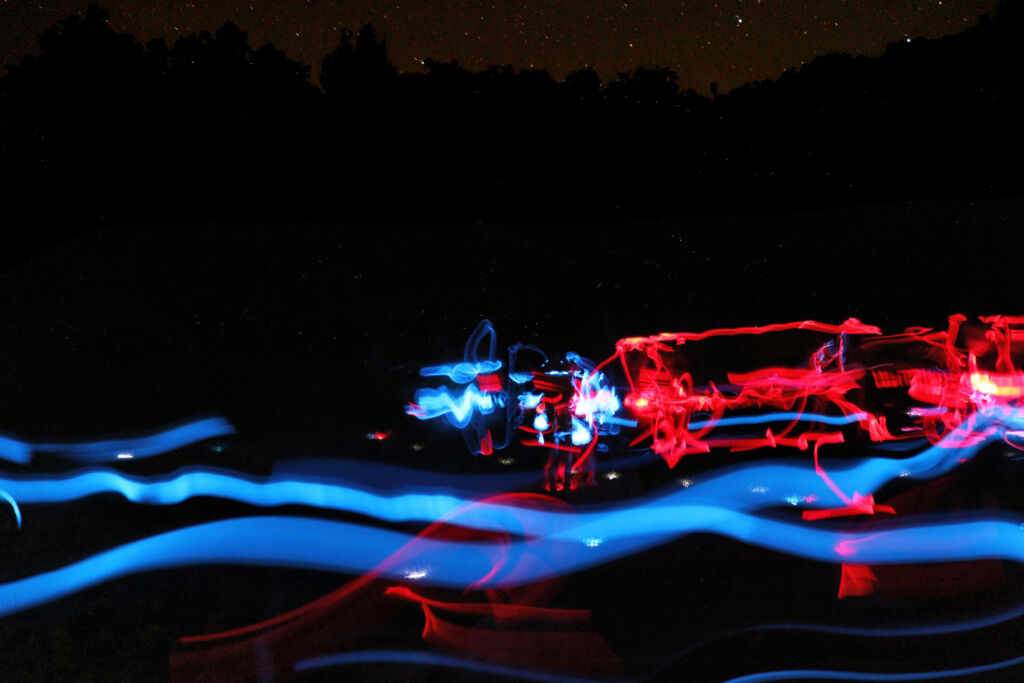 ADVENTURERS (ENTERING GRADES 7-8)
Adventure to camp and beyond with this popular middle school program! Spend part of the week on camp, then depart for an overnight excursion at Sidie Hollow Lake near Viroqua, WI. Enjoy canoeing, swimming, games, shooting at our archery range, cooking over open fires, and more in this one-of-a-kind adventure with faith in the outdoors!
Campers camp out by night in tents, as weather permits, between daily adventures – gaining skills and inspiration for faith and life. Encounter Christ through daily Bible study, evening campfires, and uplifting conversations about real life. Don't miss out on this chance for a true camp adventure!
Cost: $695 (Tier 1), $495 (Tier 2), or $395 (Tier 3)
Dates: June 25-30, July 16-21, July 30-Aug 4
RANGERS (ENTERING GRADE 8)
Venture in the wild beyond and discover the diverse wildlife and geography found at Sugar Creek! Rangers will spend a week, in a supportive team, learning and practicing essential survival skills such as fire building, foraging, and creating shelter. Practice your leadership skills for real life, in this unique outdoor adventure.
Of course, these campers will enjoy classic camp activities, too, like swimming, canoeing, horseback riding, and archery… Campers will also have faith and life talks, and world-class campfires deeply immersed in God's creation.
Rangers stay in cabins most nights but also get the chance to camp overnight in the woods! Sign up for this new program today for a Sugar Creek experience you will not want to miss.
Cost: $695 (Tier 1), $495 (Tier 2), or $395 (Tier 3)
Dates: July 9-14, July 30-Aug. 4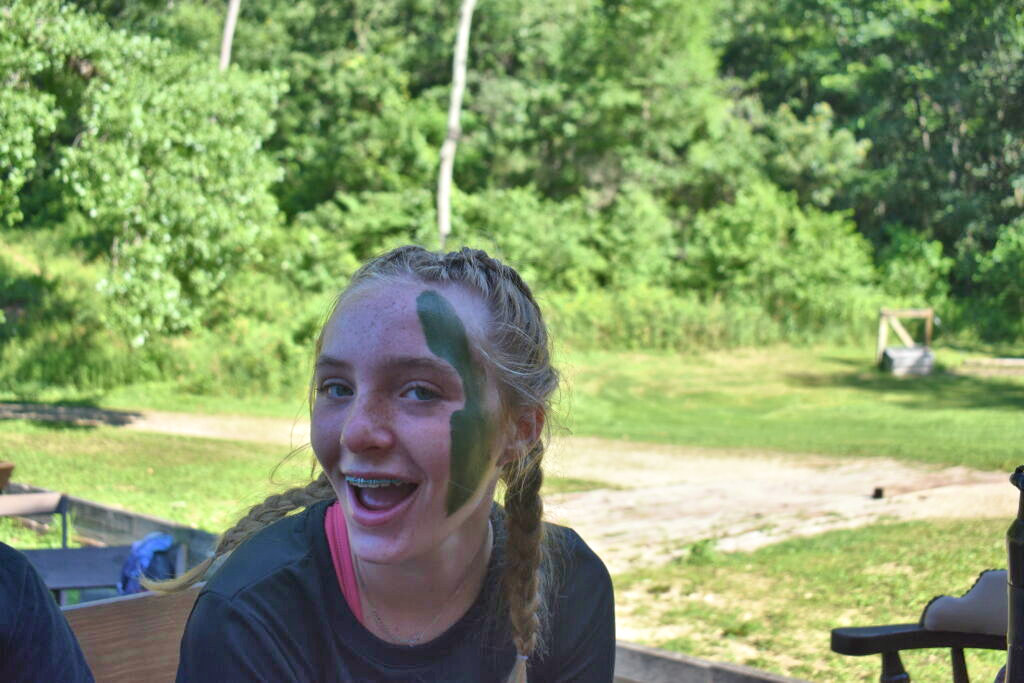 PEDAL & PADDLE (ENTERING GRADES 8-10)
Would you like to try an exciting outdoor adventure? Do you like biking, canoeing, camping and more? Then this "do it all" trip is for you! You'll bike the scenic Elroy-Sparta Bike Trail, canoe on the breathtakingly beautiful Kickapoo River, and camp out with your friends along the way. Your travel adventures will also include fun camp activities such as games, campfires, Bible study, team building and more! Come with your youth group, a friend, or by yourself and make friends along the way!
This program is also great for Confirmation groups who want to bond in a new way. If the weeks offered on the schedule don't work for your Confirmation group, please call. We can possibly find another week—or a custom program—for your group.
We provide camping gear, food, youth ministry staff, and activities. Please bring your helmet and a bike in good working order. (Contact the camp office in advance if you do not own a bicycle; we can possibly help to find a working bike that fits you, if we know ahead of time.)Campers entering this program should be able to ride at least 10 miles a day at a steady pace.
Cost: $695 (Tier 1), $495 (Tier 2), or $395 (Tier 3)
Dates: June 25-30
CONFIRMATION (ENTERING GRADES 7-10)
Sugar Creek offers two exciting weeks of Confirmation Camp! Youth will enjoy all the great activities of camp, meet new friends, and spend memorable time with their Confirmation class in one of our lodges or outdoors in God's glorious creation! Enjoy adventures with your counselors and cabin group canoeing, swimming, hiking, horseback riding, and more!
Pastors or youth leaders come free of charge and lead 90 minutes of daily confirmation time. At Sugar Creek, Confirmation Camp leaders are housed together with other adults for the week but are encouraged to participate in all the fun camp activities throughout the day!
Church leaders: please call or e-mail to pre-register your group.
Cost: $695 (Tier 1), $495 (Tier 2), or $395 (Tier 3)
Dates: June 11-16, July 9-14