Join us for Volunteer Tuesdays!
Our ministry th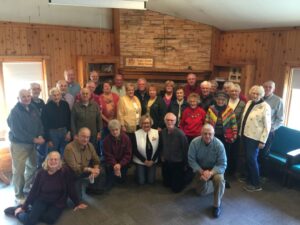 rives because of volunteers and gifts! From painting to splitting wood, to trail trimming and carpentry, or office work and special cleaning, our volunteers keep this place running! Throughout the year, volunteers gather at Sugar Creek every Tuesday from 9:00-3:00 to help with various tasks like painting, wood splitting, mowing, office work, mailings, and general maintenance. Sugar Creek could not operate with the quality and care we offer campers and guests without the tremendous efforts of our many volunteers – THANK YOU! Come on down this Tuesday! We'll feed you a great lunch, and you'll enjoy fellowship with fellow volunteers. Help us keep Sugar Creek beautiful and join our team! Call 608-734-3113 for information.
Sugar Creek needs you!  Individuals or Groups, adults or youth, are welcome to volunteer in a variety of projects.  Tuesdays are traditionally the volunteer day for adults, but we'll take your help anytime.  Call to explore how you can help.
Maintenance Assistance/Repairs – all varieties. All skill levels welcome!
Building projects, small and large!
Cleaning… saves real money for youth ministry!
Trail Work: trim, mow, and cut. Help kids get deeper into the outdoors!
Help with mailings throughout the year. Meet the nicest people!